This Sunday's Melrose Mornings Launch Celebration is jam-packed with family fun!
We've got @meganmakesbubbles and @timkubart on the Greenway Arts Main Stage.Megan will be making bubbles on the lawn with us after her show.
FUN-draising Activities Include:
– Face Painting by @weadornyoula
– Putt Putt Golf Course made by #GreenwayArts makers
– Melrose Mornings T-shirt Tie Dying
– Make your own batch of Slime
See you Sunday!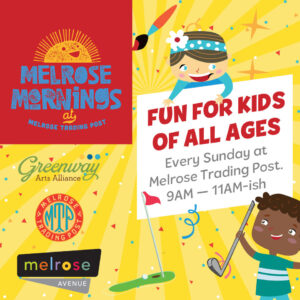 #MelroseMornings #melrosetradingpost #bubbleshow #losangeles #laparent #socalmoms #melrose #melroseavela #fairfax #fleamarket #sundayinla #sundayfunday #familyfun #redtricycle #timkubart #musicofmtp #weadornyoula #greenwayarts