On Sunday April 28th the Melrose Trading Post is hosting Slow Art Day 2013!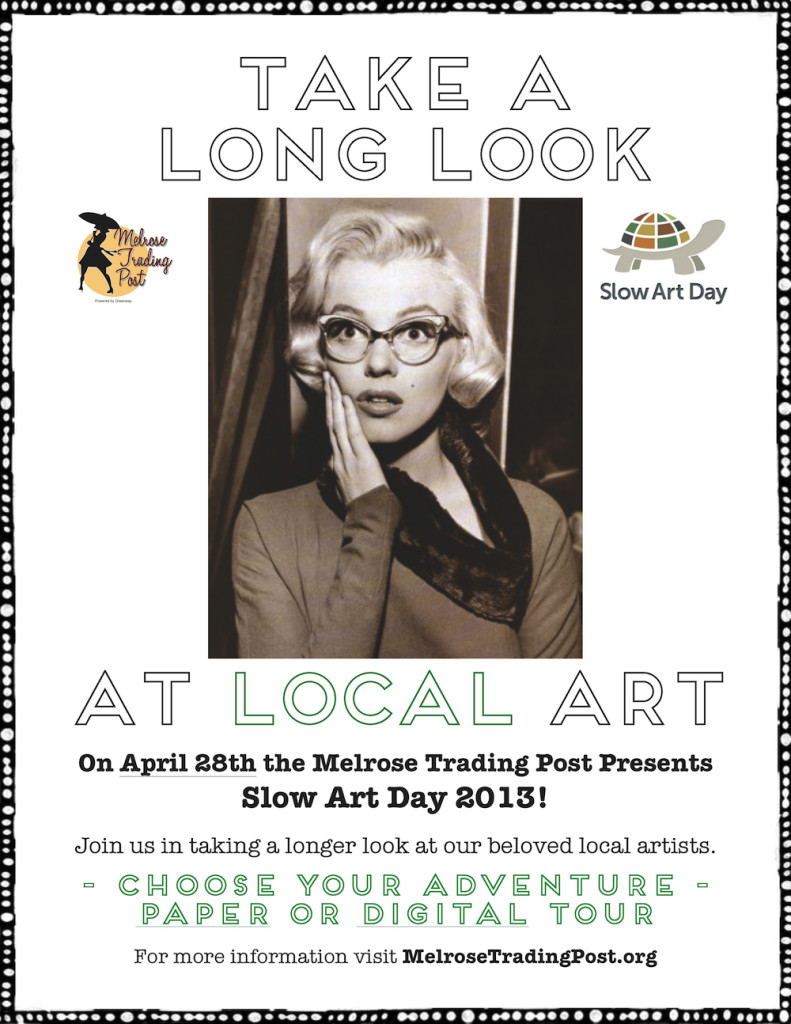 In a true "Choose Your Adventure" style we are offering two tour options – Paper or Digital Tour.
Sign up online today or in person on the day of the event.
Art viewing: 11:00 AM – 1:00 PM
Lunch: 1:00 PM – 2.00 PM
At MTP Food Court
Host: Natalie Iturbe, contact Natalie via e-mail
The Melrose Trading Post is showing off LA's local artists!
In true "Choose Your Adventure" style, the Melrose Trading Post will take you through the market to discover the local artists that show their work at this LA community market.  You can choose the old-fashioned method with a brochure that includes a map of the market OR the eco-friendly way via Facebook, Twitter,Instragram or the MTP Blog on your smart phone or tablet! 
Each week several artists, artisans, craftspeople and designers come together to show off their work.  On Sunday, April 28th 2013 we will be highlighting the artists in our market who live and breathe LA.  Their artwork will be displayed for you to look at… SLOWLY.   The unique part of MTP's Slow Art Day is that you can speak with the artist about their work while you're looking at it!  Slow Art patrons will be given a brochure to show them how to find the artists in our market of treasures.  You will also be invited to share your findings while lunching in the food court.
About Slow Art Day: Slow Art Day is a worldwide celebration of art that encourages people to look at art SLOWLY – and thereby experience art in a new way. You can see more about Slow Art Day and the mission behind it on our website: http://SlowArtDay.com.
As Slow Art Day approaches, you'll hear from your host with more information, as well as instructions about what to do when you arrive for Slow Art Day.
More info about Slow Art Day movement: facebook | twitter | tumblr