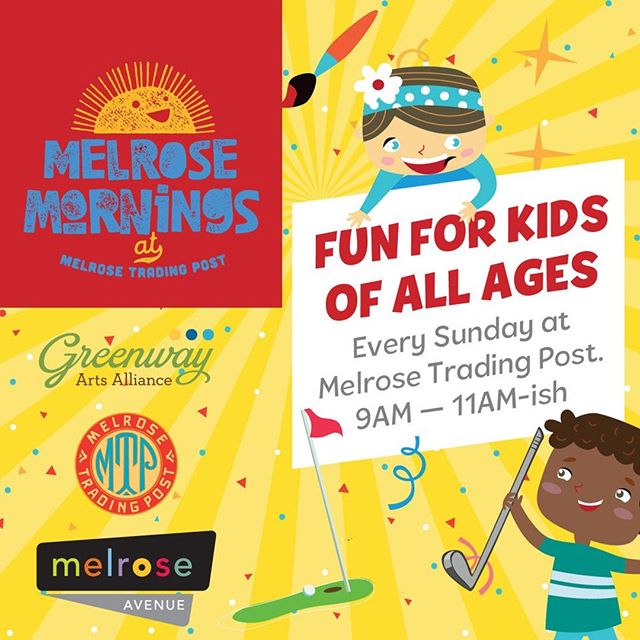 Introducing Melrose Mornings at the Melrose Trading Post, brought to you by Greenway Arts Alliance in partnership with the Melrose Business Improvement District.
Launching Sunday, April 28, and then taking place every Sunday at the MTP from 9am-11am, Melrose Mornings will appeal to parents and kids from toddlers to 'tweens.
Entertainment includes kid-friendly bands and entertainers, a handmade putt-putt course, arts and crafts, face painting and more!
For the April 28th launch, we look forward to welcoming:⠀⠀
• Live music by Tim Kubart, winner of the 2016 GRAMMY Award for "Best Children's Album" for his independently released and fifth album for families, HOME, and Tambourine Guy with Postmodern Jukebox!⠀
• Megan McIver, bubble-ologist extraordinaire, will perform a jaw-dropping Bubble Show, making bubbles with the crowd. ⠀
• Art Project Station ⠀
• Face-painting by We Adorn You⠀
• Local Flavor: A section devoted to local artisanal food providers.
Join us April 28th and every Sunday morning thereafter for an awesome family gathering at MTP!
Entrance is $5 for adults, free for kids. ⠀
There is a charge for special activities.*⠀⠀
The Melrose Sunday Music Series follows after on the Main Stage, so you can continue enjoying more MTP fun.⠀⠀
#MelroseTradingPost #GreenwayArts #Melrose #Fairfax #MelroseMornings #MelroseAveLA #LosAngeles #Hollywood #WeAdornYou #MeganMciver #Bubbleologist #TimKubart