Greenway Arts Alliance offers opportunities for artists to create and participate in projects on campus.
We hope you'll make art with us!
---
< Past Projects >
1. Thank you to Shelley the Artist for painting two mobile murals for the Melrose Trading Post, and thank you to everyone who applied for our 2017 mural project.
2. Thank you to Big Boss Art Co and Mid City Signs for painting our logos on our building!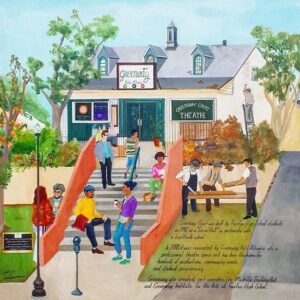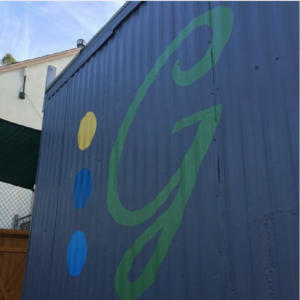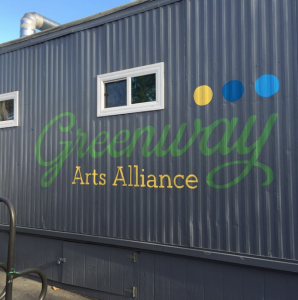 < Current Projects >
Artist Opportunity to Collaborate on Merch (Posted August 1, 2018):
The Melrose Trading Post is looking for current permanent vendors / artists who would like to collaborate with us on the merchandise for our pop-up shop.
What is involved?
We will give you a small batch of either MTP baseball hats, MTP canvas tote bags or MTP t-shirts.
You will work your magic on up to 5 these items on an agreed upon timeline, turning them into one-of-a-kind pieces.
Bring them back to us, and we will trade you one free space (valued at $70-$120) in exchange for your work.
We will sell these items in our pop-up shop at a reasonable price.  Currently each item in the shop is priced under $16.
We are thinking of increasing the price by $5-$10 for a one-of-a-kind item.
The Benefits
We will post about the collaborate on our social media, blog and newsletters. (with your name and website links).
If you provide us with photos or videos of your process of transforming our merch, we will gladly post them too.
Interested?
Email Natalie@melrosetradingpost.org with the subject "MTP Artist Collaboration" with your ideas and the items you're interested in transforming.
—
Ongoing Call for Artists & Musicians-
Feature Your Photography on the Melrose Trading Post Instagram Page
If the Melrose Trading Post fascinates the photographer in you, or you're a photographer looking to be seen by our audience, lets talk!
Email Natalie@GreenwayArts.org to collaborate or have your photo(s) featured on our social media.
Perform on one of our Stages
To Perform at the Melrose Trading Post's outdoor stages, email Martin at Music@MelroseTradingPost.org.
For Information on Performing at the Greenway Court Theatre, send an email request.