There are a few street closures listed for this Sunday, September 29th that may effect your drive to the Melrose Trading Post. 🙂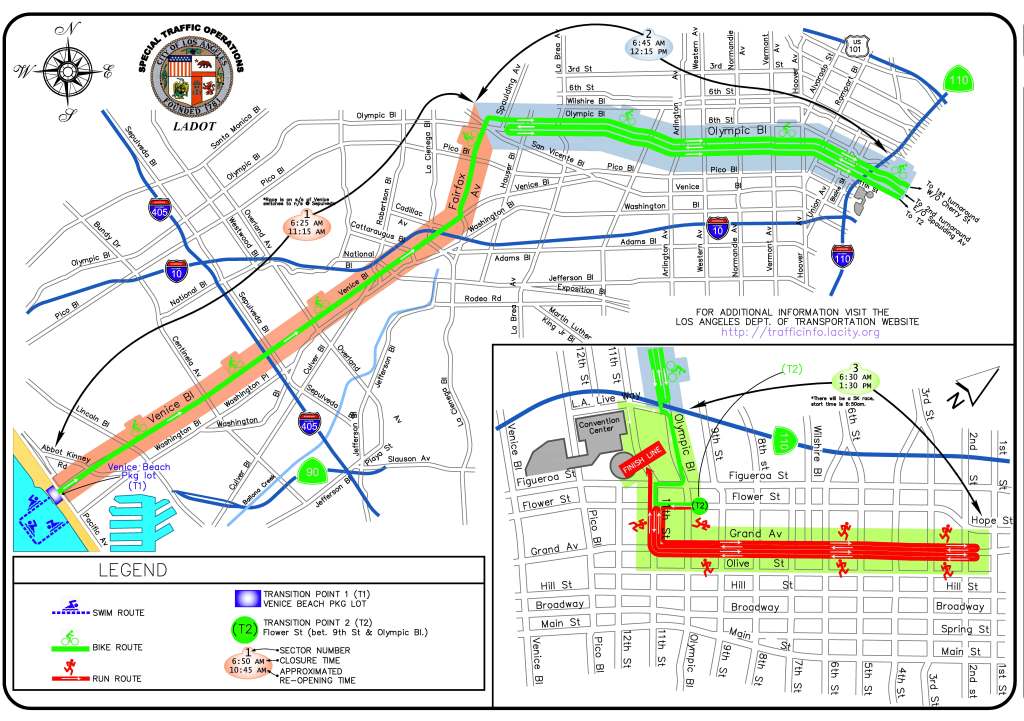 Los Angeles Triathlon Street Closures on September 29th!
September 3rd, 2013 by Bret on YoVenice.com
The 14th Annual Los Angeles Triathlon will take place on Sunday, September 29th, with the first leg (swim) at Venice Beach, the second (bike) from Venice Beach to downtown Los Angeles, and the third leg (run)/finish line in downtown LA. at L.A. LIVE Plaza.
There will be street closures the morning of the 29th that will be managed by the Los Angeles Police Department and the Department of Transportation. To protect the safety of competitors and spectators, there will be NO vehicular crossing points along the route. Please make sure that all vehicles are parked off the streets designated in the map above. Closing and opening of streets on the cycle and run portion of the triathlon will be managed in waves in three sectors: Sector 1 – Venice Beach, Venice Blvd. to Fairfax/Wilshire (approx. 6:50 AM to 9:30 AM) Sector 2 – Fairfax/Wilshire to Olympic/Cherry (approx. 7:10 AM to 11:50 PM) Sector 3 – Olympic/Cherry to 1st/Hope Ave. (approx. 7:30 AM to 1:00 PM) The event has helped raise more than $15 million in charitable funds for local organizations. More than 30 Olympians and 10 World Champions have competed on this course over the past 13 years, along with more than 35,000 newbie, weekend warrior and serious triathletes from all 50 states. The race has been voted as one of "10 Olympic Distance Triathlons to Try in 2013," a Southern California "Best Bet," the "Ultimate Multi-Sport Destination Triathlon," and the "Best Urban Race Among International Triathlons."