I'm all for being green and using public transportation.  In fact, I took public transportation to my friend's house by the Hollywood Bowl just last night (after a hot Sunday Melrose Trading Post).  I understand that sometimes when one comes to a flea market, you need a car or truck to take home the more massive finds (furniture, mirrors, artwork, statues of Ronald McDonald, etc.), but know that there are always options.
At a flea market like the Melrose Trading Post, there are several vendors who deliver furniture and large items for a small fee or included in the agreed price.  They understand that not everyone drives a truck or SUV with the capacity to carry some of the treasures found in our market.   Usually they will drop it off on their way home (generally after 6-7pm the same day depending on when they leave the market).  This frees you up to use any type of transportation you choose to arrive in style.
Of course it's Los Angeles and cars are abundant, so the Melrose Trading Post makes access into our market easy for those who do drive.  Parking is free when available at the Melrose Trading Post, but sometimes we run into special circumstances with the LAUSD campus of Fairfax High School.  These past two weeks the school has been re-seeding the baseball field that we usually use for parking.  While we were able to open up another section of campus for parking, not all of the customers were able to find the access point.  This is frustrating for everyone (customers, vendors, staff, and neighbors) and causes a lot of people to park on the neighboring streets.  We plan to resolve this for the upcoming Sunday.
Public Transportation, while not widely trusted in Los Angeles, gets you to where you need to go for a low price.  A Metro day pass is $5 ($1.80 for seniors and disabled) and comes on a "TAP Card" that you tap on a sensor for subway and bus admission. You can get a TAP card through these outlets.  If you don't want the pass it's a $1.50 per ride ($.55 for seniors and disabled)… exact change is recommended (dollar bills and coins are accepted).  I personally like public transportation because it is used by so many tourists.  I see people from all over the world and hear many accents when I ride on the bus.  Usually they're hopping from one landmark or shopping destination to another, exploring the city and going on adventures.
I use LA Metro's Trip Planner online to figure out how to get to various places.  It's pretty simple…
Enter into the boxes where and when you'd like to go.  In this example I researched directions to the Melrose Trading Post (Melrose and Fairfax) from North Hollywood (works for those coming from the Valley).  The screen shots can be enlarged by clicking on them.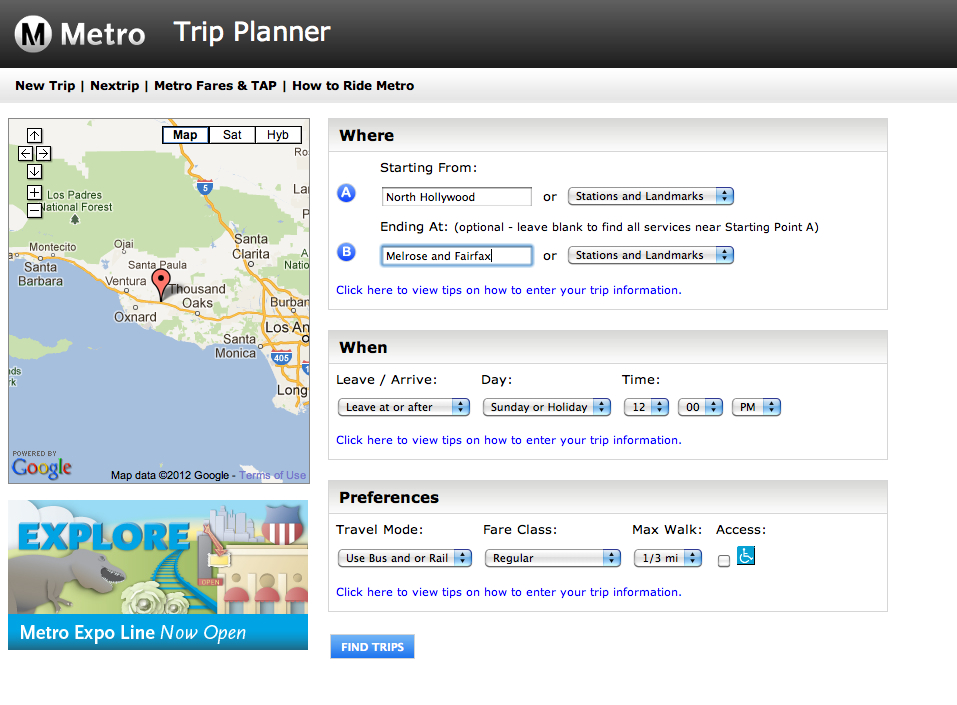 I then confirmed the locations.  I wanted to get directions from the North Hollywood Bus/Subway station.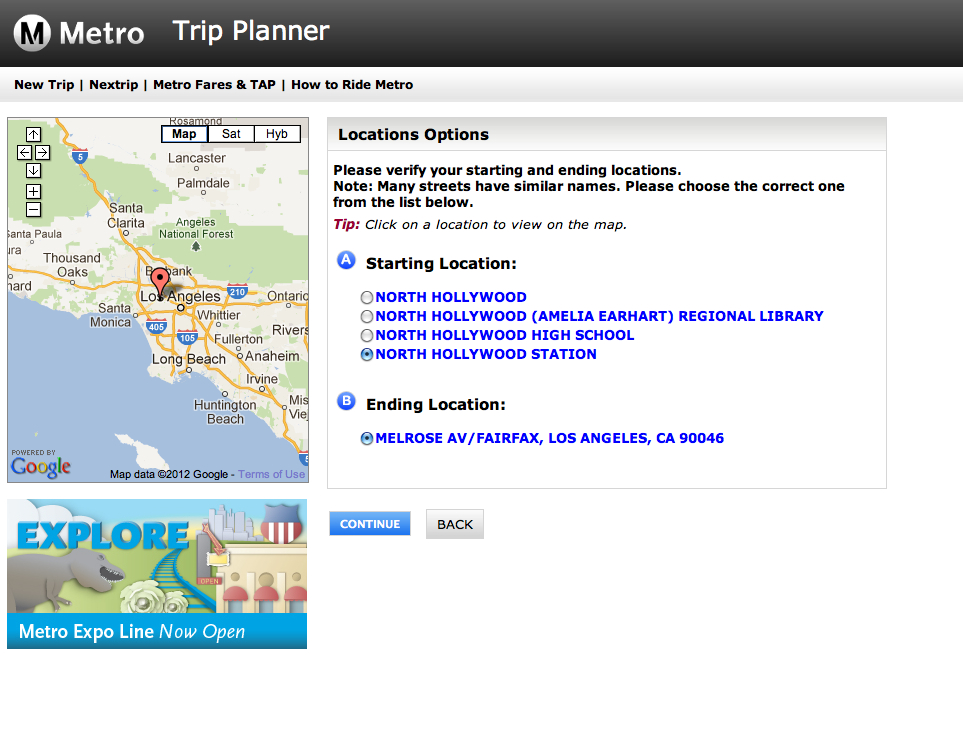 Then I chose which route I wanted to go with. I chose the first, which is the fastest way and it uses the subway and bus lines I was hoping to use.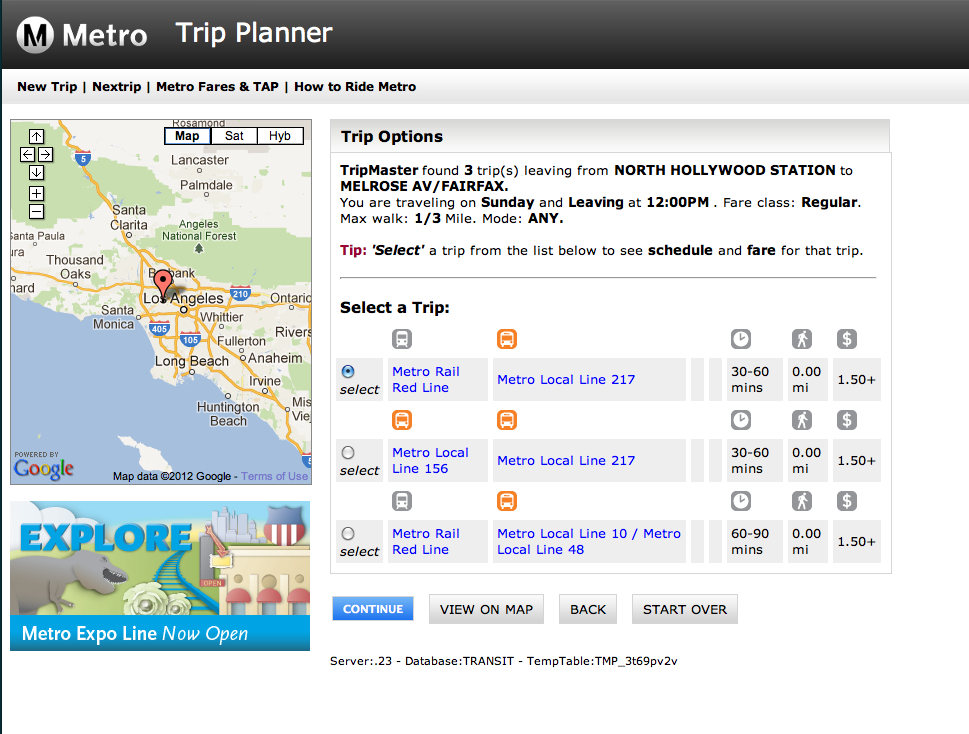 I love that the Trip Planner lets you know how much your total trip costs compared to the cost of gas.  I saved a $1.97 in one trip!
You can also easily reverse the route to make sure the same lines are running at the time that you wish to return.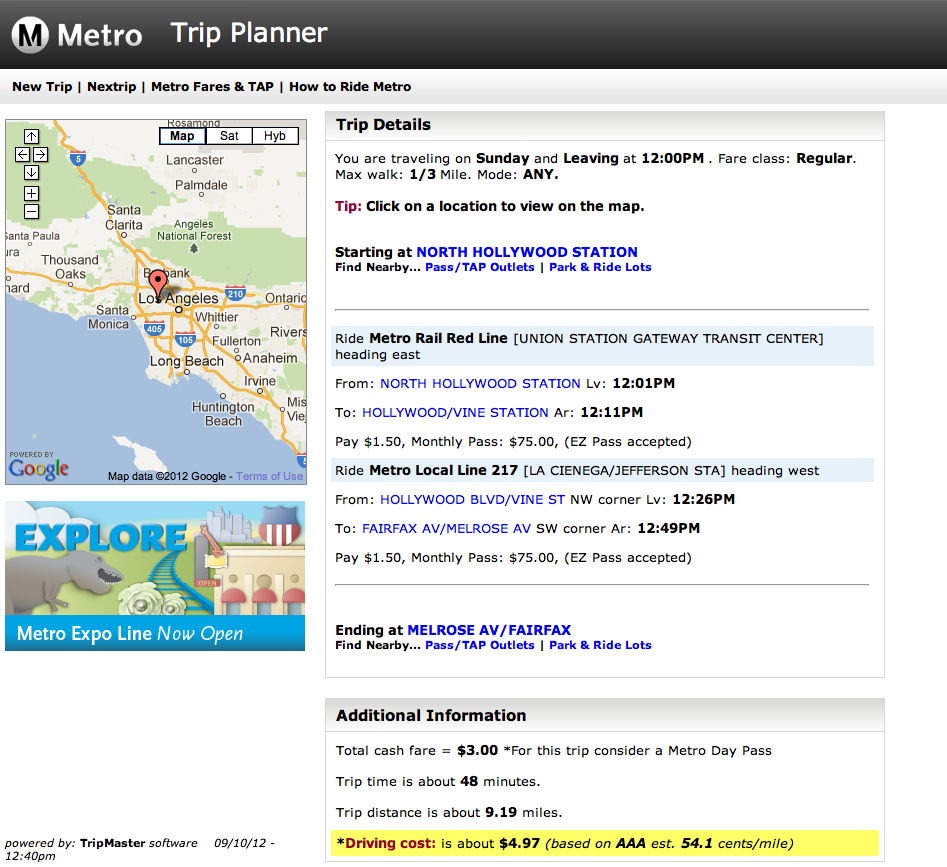 For a complete round trip with a change over, you may as well get a day pass TAP card.  Each ride on each vehicle is $1.50, so with this route (one subway ride and one bus ride each way) you save $1 by getting the $5 day pass.  With your $5 pass you pay for your round trip rides (or as I call them, adventures) and you don't have to worry about parking.
Plus your green transportation coincides with the Melrose Trading Post's goal to go Green!
I would love to hear any thoughts and ideas on public transportation in Los Angeles.
Happy Travels!
Natalie