Welcome to the New Vendor Information Page
Follow Steps 1-4 and you'll be booking a space in the market in no time.
STEP 1: Determine Your Merchandise Category – 1 or 2
Category 1
We are look to book vendors who sell merchandise under the following categories:
Antiques
Collectibles
Original and Collectible Artwork & Prints
Unique Non-Wearable Handmade/Homemade Items
Mid-Century Furniture and Home Decor
Non-Wearable Vintage Items
Non-Wearable One-of-a-Kind and Rare Items
Non-Wearable Items made with Recycled/Repurposed materials
Eco-Friendly Items
Vendors with this category of merchandise are eligible to book in advance every Sunday according to booth availability.
Category 1 Merchandise: If you fall under this category, fill out our Online Vendor Registration Form, download the Vendor Handbook, and read through it to learn how to book a space in advance.
Category 2
Because of the relatively small size of our market (250 vendors), we need to maintain a balance of merchandise. The items listed in Category 2 are currently abundant in the market. New vendors who sell these items are only eligible to book a space in advance for the 2nd Sunday of the month or any Sunday through the morning Stand By Line:
Handmade or Vintage Jewelry
Vintage or Locally Designed & Handmade Clothing (No "Wholesale" or "Bulk" Clothing from Downtown)
Crystals and Minerals
Handmade and Vintage Shoes
Purses (

ABSOLUTELY NO COUNTERFEITS

)
Uniquely Decorated Device Accessories
Vinyl Records
Some Imported Goods
Shabby Chic Furniture
While there are a few exceptions, the booth's display, business concept, marketing, and quality of merchandise would have to be outstanding.
Category 2 Merchandise: If you're booking a space for the 2nd Sunday or through the Sunday Morning Stand By Line, fill out our Online Vendor Registration Form, download the Vendor Handbook, and read through it to learn about our booking procedures.
  MERCHANDISE QUESTIONS 
If you're not sure of where your merchandise falls, contact Ash or Natalie with a description of your business, website links and/or photos of your merchandise.  The more details you provide about your business, the easier it will be for us to see if it is a good fit for the market.
If your merchandise is not on this page, it may not be eligible for our market.
Refer to the MTP Vendor Handbook for a full list of ineligible merchandise.  
STEP 2: Download the MTP Vendor Handbook for ALL Vendor Information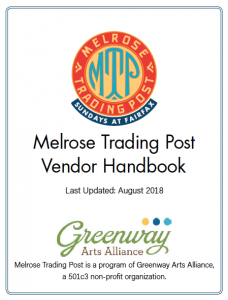 This document includes: Pricing, Insurance Requirements, FAQ's, Stand By Line Procedures, Procedures for Booking Spaces in Advance, Terms & Conditions, Policies and Guidelines, Safety and Loading and Payment Policies. Review this document prior to booking a space.
Everything you need to know about getting into the market is in this document. If you read it, you will be empowered to book a space according to your merchandise category.
Download the Melrose Trading Post's 2018 Vendor Handbook here
Download 410.93 KB
About the Vendor Handbook
This document contains all vendor information including Frequently Asked Questions.
Booth Pricing ranges from $70-$120 per Sunday.  
Booth Sizes Range between 10×10 – 20×20 with a
few larger and smaller variations.
You will sign off that you have read and understood this document when you fill out the online registration form, so make sure you read it prior to signing up.
[August 2018 Version]
STEP 3: Download the Market Map
About our Neighborhood: Melrose and Fairfax
The Melrose Trading Post is at a crossroads of two very popular Avenues in Los Angeles, Melrose and Fairfax. These two streets have personalities of their own, featuring local businesses, coffee shops, restaurants and art galleries. Learn More About Melrose Avenue and Fairfax Avenue.
STEP 4: Submit a registration form, then proceed to book a space according to your merchandise category.
IMPORTANT NOTES TO READ BEFORE FILLING OUT THE REGISTRATION FORM:
After you have registered, follow the directions in the MTP Vendor Handbook for booking a space according to your Merchandise Category.
Registrations are not replied to individually due to the large volume received each week and the limited availability of spaces.  

After you have filled out the registration form, call Ash at the vendor booking line so he can confirm your information was received.
By purchasing a booth at Greenway Arts Alliance's Melrose Trading Post, you are agreeing to the policies, procedures and guidelines in the MTP Vendor Handbook.
Absolutely no drugs or alcohol allowed at the market… it's a high school campus!
When you book a space at our market, you will be signed up for our vendor and patron e-newsletters to receive updates and reminders about the market that may impact your Sunday.